AP Automation Helps Retailers Work Faster, Smarter, and Leaner
With staffing shortages, supply chain challenges, and evolving consumer behaviors, profit margins are tighter than ever. To keep pace with these changes, many retailers are digitally transforming customer-facing interactions. But there's another key – and often overlooked – area that should also be a digital priority: Accounts Payable. By automating this back-office operation, you can significantly cut costs, boost productivity, and strengthen vendor relationships. And thanks to easy, painless implementation, you can accomplish all this – and gain competitive advantage – while enjoying rapid ROI.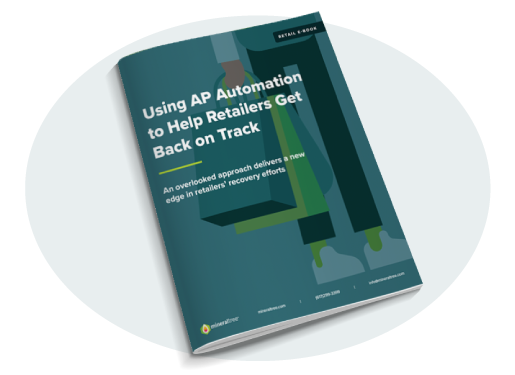 Download our free eBook
Our eBook demonstrates how automating AP and other back-office processes  can serve as an effective way for today's retailers to create business resiliency amidst changing industry conditions. Download to learn how automated AP solutions can streamline cumbersome workflows, improve controls, reduce costs, and even empower remote employees.

Download Now
AP Gems: Improving Vendor Relationships with AP Automation
MineralTree gives me so many intuitive tools to quickly see where invoices stand and take the right action to keep them moving. This has enabled me to provide more proactive service to our suppliers and become a better business partner inside of Simple Mills.
MineralTree has allowed us to manage a nearly 50% increase in invoice volume without adding AP headcount—all while ensuring our suppliers are paid on time. We're looking forward to accomplishing even more with MineralTree in the future.
You Might Be Wondering
What is the ROI of automation for retailers?
By streamlining processes and reducing a huge amount of manual work, you'll capture savings right away. Additionally, you'll save on late fees, and the end-to-end visibility you gain will enable you to take advantage of early payment discounts and negotiate better supplier contracts. All these savings add up to rapid ROI, even before factoring in cash-back rebates that can more than offset your MineralTree fees.
Do you support overseas payments?
With MineralTree's international payments capabilities, you can leverage the same platform to pay international suppliers in their local currency. We update exchange rates continually to get you the best rates, and work with a network of banks in other countries to keep your costs low and transactions fast. Also, to make processing fast and easy for you, we sync the exchange rate with your ERP; record currency automatically during invoice capture; manage different tax requirements; and provide a seamless workflow with domestic payments.
Will MineralTree's AP automation solution support my ERP?
We seamlessly integrate with hundreds of ERPs and Accounting Systems, including Oracle (NetSuite, EBS, ERP Cloud, JDE, PeopleSoft); SAP; QuickBooks (Desktop, Online); Microsoft Dynamics (Business Central, Great Plains, Finance & Operations); and Sage (Intacct, 50, 100). We make sure every data point, transaction, approval, and payment syncs with your ERP so everything runs smoothly.
Does it handle PO or non-PO invoices?
Yes, TotalAP from MineralTree has the flexibility to support workflows for PO and non-PO-based invoices.
Learn More About MineralTree & Retail